Easter is this weekend, are you ready? When easter finally rolls around, it truly begins to feel like spring. Maybe it is because the sun starts burning a little brighter, or maybe it is the bright flowers that start popping up in your garden. Whatever it may be, we love Easter because spring comes with it!
If you are heading to your family's Easter brunch or are hosting dinner, make sure you are ready by adding one of the bright and beautiful flower bouquets from Nancy's Floral to your Easter day celebration. These colorful flower arrangements can add a pop of color and a springtime feel to your Sunday plans. It is easier to imagine warm weather with these festive bouquets.
There are so many cute and beautiful arrangements from our Easter collection, stop by today before we run out! In this blog we will take a look at some of our favorites.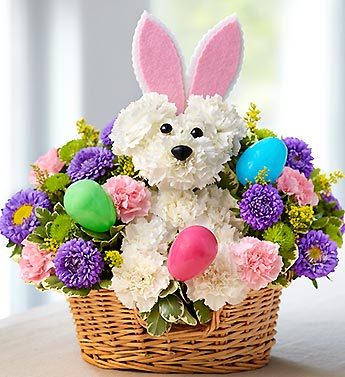 Hoppy Easter™
This is a great flower arrangement to add to your family festivities. With brightly colored flowers, plastic Easter eggs, and one of our a-DOG-able® arrangements dressed up to look like a bunny, you and the kids will love this flower arrangement!
Spring Sensation™
If you are looking for a bouquet that is bright, colorful, lively, and vibrant, this is the bouquet for you! With orange, pink, yellow, purple, blue, and green flowers, this bouquet will add the springtime magic to your Easter weekend. This flower arrangement is full of life and color, and it's the perfect choice for anyone ready for spring.
Easter "Egg"Citement™
This fruit bouquet can add a sweet treat to your brunch plans. Complete with white chocolate and sprinkle covered strawberries as well as bunny-shaped pineapple pieces covered in chocolate, this is the perfect fruit bouquet for your Easter. Just be sure to take a picture of this beautiful arrangement before it all gets eaten!
These are a few of the many Easter flower and fruit arrangements we have available at Nancy's Floral. Stop be today and be sure to get your spring colors ready for this Easter weekend!