Posted by Nancy's Floral on 4th Dec 2020
Are you planning a wedding this winter? While the events of this year may have required you to make some changes to your original wedding plans, there is one aspect that can stay the same, and that's the color palette that you choose. The colors that you choose for your wedding can be applied to the dinnerware, tablecloths, and most importantly — the flower arrangements.
In today's blog from our flower experts at Nancy's Floral in Portland, we'll go through some of the five most beautiful winter wedding color palettes to provide you with some inspiration for your big day. Nancy's Floral provides flower delivery throughout Portland, and we're happy to deliver the flowers for your winter wedding day. Get in touch with us today to learn more about your arrangement options and keep reading to learn more about some amazing color combinations!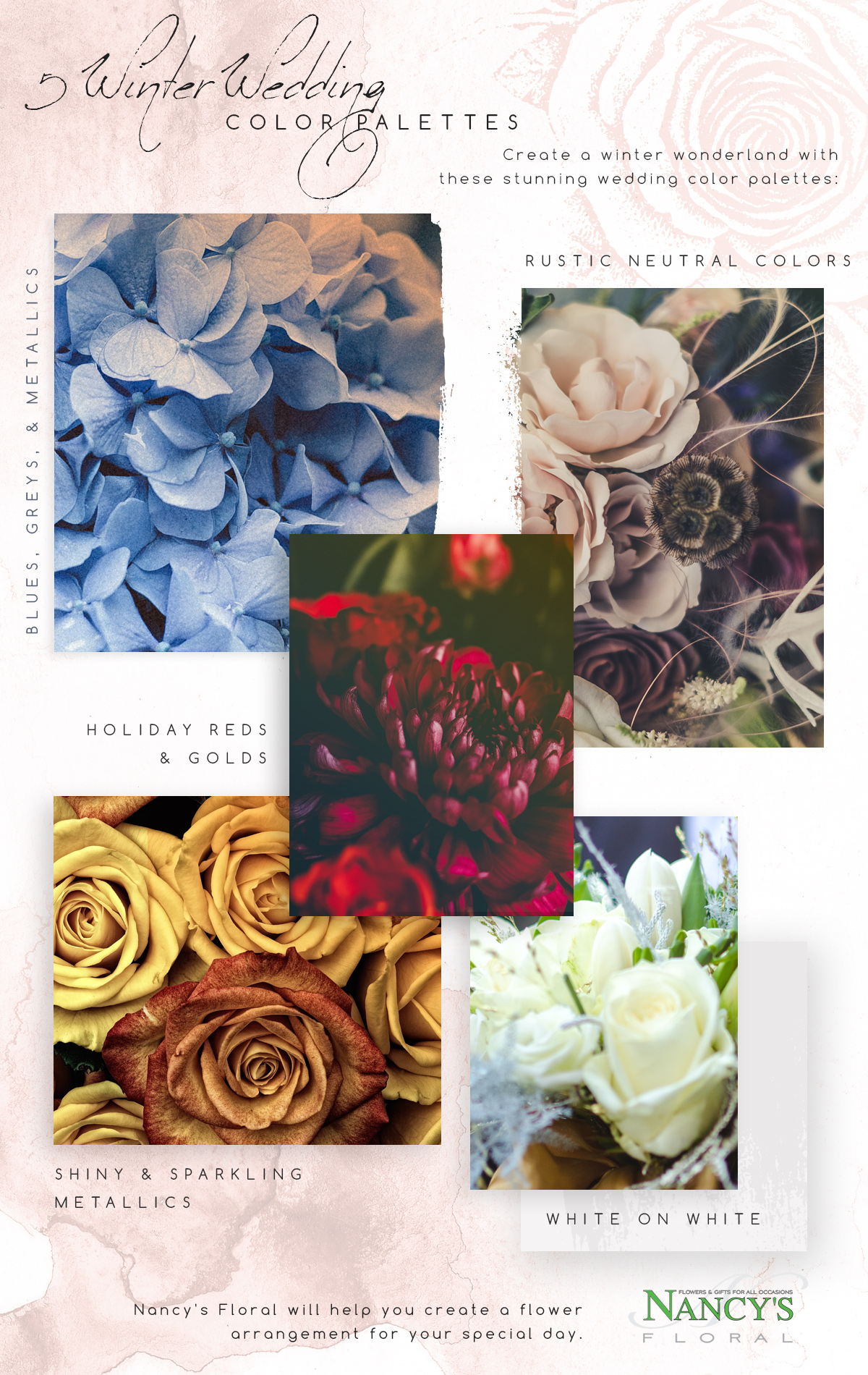 Blues, Greys, & Metallics
Imagine entering a room filled with grey-blues with pops of copper or silver everywhere — it will be like walking into a winter wonderland. Paired with beautiful white flowers like roses, peonies, dahlias, and hydrangeas can create a beautiful bouquet and stunning arrangements that look like a fresh blanket of white snow.
If you love this color palette and have specific flowers in mind that you'd like to use for your bouquet, arrangements, or table settings, get in touch with us at Nancy's Floral to find out how we can help!
Neutrals
For a more rustic aesthetic at your winter wedding, consider choosing neutral colors like white, ivory, and taupe. Think about the feeling of a cozy barn, bare trees, dried leaves, burlap accents, and weathered furniture. That's the feeling you'll get with this cozy and charming color palette. Wrap your bouquet with burlap or hemp ties and fill it with organic textures like white orchids, dried hydrangeas, ferns, and more.
If you want to add a little pop of color to this amazing palette, you can choose rose or traditional gold to offset the matte colors of ivory and taupe. This neutral color palette sings elegance, and the beauty of your winter wedding day will be one that is remembered for years to come.
Seasonal Reds & Golds
The winter season is hardly disconnected from the holiday season, and you can't think about the holidays without thinking about the bold reds, greens, and golds that accent this special time of year. If you are getting married around Christmastime, berry-toned reds and gold accents are an amazing and beautiful choice for your winter wedding color palette.
There's no color flower more popular than the red flower. Red roses, peonies, carnations, and others can create an exquisite bouquet and even more beautiful table centerpieces and other arrangements.
Talk to an expert at Nancy's Floral to see how we can accommodate your holiday wedding with stunning flower arrangements that are sure to be remembered.
Full Metallics
If you really want your winter wedding to shine (no pun intended), a variety of metallic colors will do just the trick. Create an amazing combination of coppers, golds, silvers, and rose golds to bring shine and color to your big day. With a white and snowy backdrop, metallic colors are sure to capture light from anywhere and make the room shine.
Hang stars from the ceiling, use gold dinnerware and centerpieces, and more. And choose Nancy's Floral in Portland to help you choose the floral arrangements that will bring it all together for a day you will never forget.
White on White
Our last winter wedding color palette may seem boring, but trust us, you'll create an absolutely amazing winter wonderland by using white on white for your complete color palette. The scenery will be angelic, and your bouquet and other flower arrangements will impress with whie roses, baby's breath, and small splashes of green in the stems and leaves.
With white chairs, white floor runners, white dinnerware, and more, you'll create a crisp, clean, and beautiful space for your wedding.
Choose Nancy's Floral for Your Winter Wedding
Get ready for your winter wedding with some color inspiration and floral arrangements from Nancy's Floral. We love to be a part of your big day and offer flower delivery all throughout Portland. Create an amazing aesthetic for a wedding that you and your guests will never forget. Call us at Nancy's Floral today to get started!