Posted by Nancy's Floral on 15th Jul 2020
Ding-dong! It's your doorbell, and a delivery person is at your door with a bouquet of fresh flowers from your favorite florist. Sounds pretty great, right? So, what's the occasion?
Flower delivery is a popular gifting option for many holidays, celebrations, and occasions. Here at Nancy's Floral, it's no surprise to us why! Floral arrangements are beautiful, thoughtful, smell great, and are personal. If you're in need of flower delivery in the Portland area, then Nancy's Floral is here to make it happen. We offer same-day flower delivery services, beautiful and high-quality flowers, and a diverse selection for every occasion, budget, and personal taste.
Keep reading to learn what seven of the best reasons to schedule flower delivery are, and then contact us today to get started with our Portland flower delivery service!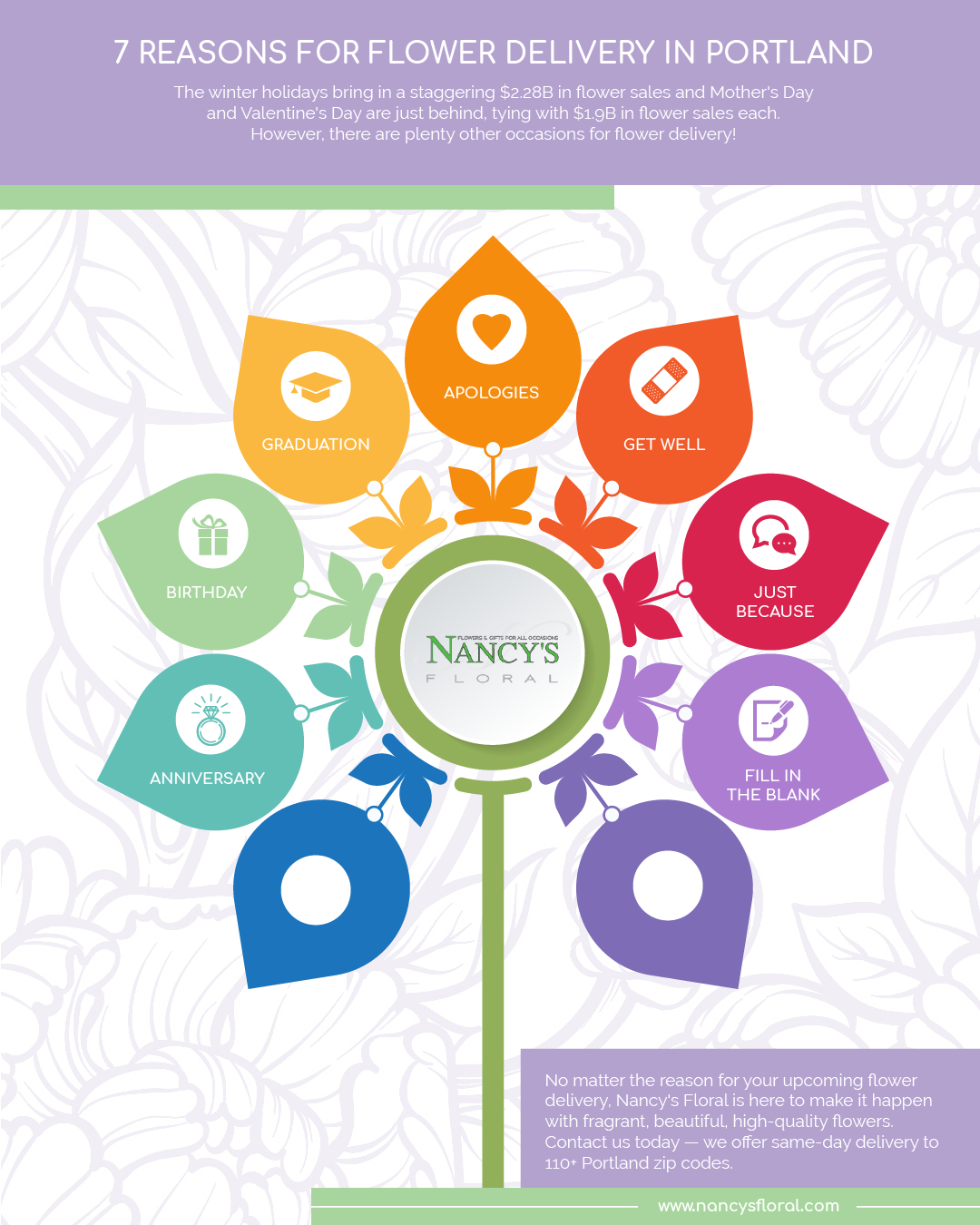 Anniversary
Anniversary flowers are beautiful, elegant, traditional, and thoughtful. An excellent option whether you're together for your anniversary or not, flower delivery doesn't get better than this. Check out our collection of anniversary flowers in Portland today if you have an upcoming anniversary.
Birthday
For that special someone in your life who has a birthday coming up, why not schedule flower delivery? Birthday flowers are fun, spirited, and let the fun of a birthday keep going past its actual date. A thoughtful gift for the young and old alike, you can't go wrong with flower delivery for birthdays.
Graduation
Graduations may look a bit different throughout 2020 and 2021, but that just means all the more reason for flower delivery to celebrate! Flower delivery for graduation won't sacrifice anyone's health while still showing the recipient just how much you care and how proud you are of their accomplishments.
Sorry
There are times in our lives when we do or say things we're not proud of. If you find yourself in this sort of situation, then flower delivery — along with a heartfelt note — can help share your apologetic message. We also offer beautiful sympathy flowers here at Nancy's Floral if you're joining in someone else's sorrow.
Get Well
When someone special in your life is feeling under the weather, then some get-well flowers delivered to their Portland doorstep can be the bright ray of sunshine they need! Show your support with flower delivery today.
Just Because
Do you really need a reason for flower delivery? Sometimes, you simply want to spread joy with floral arrangements for your friends and family. And here at Nancy's Floral, our florists are not ones to argue with that sound logic!
__________
Last but not least, your special reason! When you saw the blank heading right above, what was the first thing that popped into your head? Your niece's soccer accomplishments? Your brother's recent promotion? Your mother-in-law with a sick family member? Whatever it was, that's your reason for flower delivery.
Get Flower Delivery in Portland Today
Nancy's Floral is here for all the reasons above — and then some! Everything you have to say to your loved ones is made better with beautiful flowers and floral arrangements. Request floral delivery in Portland today.