Flowers are a great gift to give on special occasions, to let someone know you were thinking of them, or to make them happy. In a previous blog, we discussed how flowers actually improve people's mood, making them happier. But if the recipient of the flowers is allergic to the flowers you gift to them, they will not be happy as they begin sneezing.
Nancy's Floral knows that flowers can make a great gift and can really turn someone's frown upside down! Just because someone is allergic to flowers doesn't mean they shouldn't be able to enjoy this beautiful gift! In this blog, we will go over flowers that cause little to no reaction to allergy sufferers! Now you can get your loved ones flowers and not worry about them sneezing and itching their eyes for days!
Hydrangea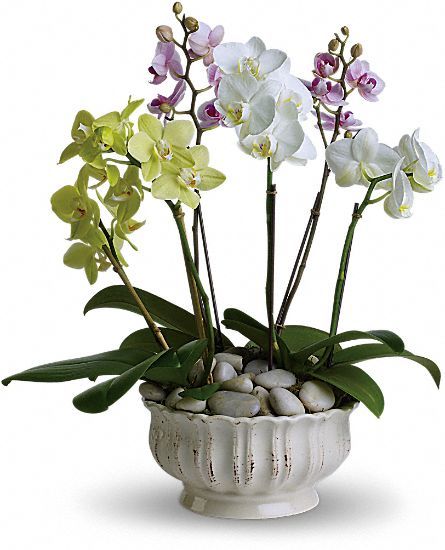 These beautiful and colorful flowers are perfect for your allergy suffering friend! Since their pollen is sticky, it stays on the flowers and out of the air. These make the perfect flowers for someone with allergies, offering a sneeze free and beautiful gift.
Roses
Roses are a beautiful and popular flower choice when it comes to gifting a bouquet to someone you love. Luckily, your girlfriend will be tearing up for the sweet gesture and not because her allergies are acting up! The pollen particles in roses too big to float through the air, so they will remain sneeze free!
Orchids
These beautiful and tropical flowers are another great flower to gift someone. Not only are they more unique than other more traditional options, but they also are allergy friendly! Orchids don't carry a ton of pollen, making them easy to have around allergy sufferers.
Asiatic Lilies
Lilies are not allergy friendly but they can be made allergy friendly. Simply cut off the stamens, or the part where the pollen is) and voila! Give these to your friend who is allergic to flowers! But make sure you cut them off, lily pollen can be the worst for allergies!
Now there is no reason not to gift a beautiful flower arrangement to your allergy suffering friend! Get them any of these to let them enjoy the flowers without their allergies flaring up! Contact us to find flowers for all of your friends!