For many people, fall is a favorite season that includes a variety of festivities. From visiting pumpkin patches and corn mazes to drinking apple cider while enjoying the colors of the leaves, there are many different ways to enjoy this vibrant season before the falling leaves turn into falling snow.
When it comes to decorating for fall, there is a fun mix of autumn and Halloween decorations that can be added to your home's interior and exterior. If you enjoy decorating for each season or you want to start decorating more, there are many different ways to do it!
At Nancy's Floral in Gresham, we love fall and we want to help you decorate for this beautiful season! While we offer a huge collection of autumn flowers, we know that there are many other fall decorations that you can add to your home to create a beautiful, and spooky, look!
Fall Decoration Styles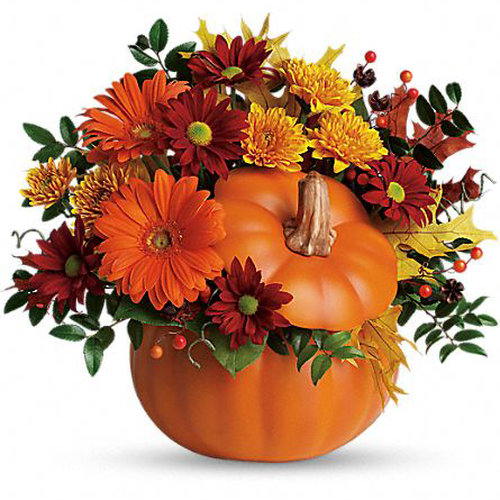 Before you get started with decorating for the fall season, you should be able to differentiate between the two styles. There are two main decoration styles for fall, Halloween and autumn. While these two styles can work together, there are a few factors that make them different.
Halloween Style
Of course, popular fall decoration choice is the Halloween style. The blacks, greens, and orange colored decorations are a fun addition to every room of the house and to your outdoor area. From jack-o-lanterns to skeletons to scarecrows, there are many fun Halloween style decorations that you can use in all of your fall decorations. These spooky decorations are popular among many households, especially as the holiday draws closer, however they make great decorations throughout the entire fall season.
Autumn Style
When you decorate for fall, one style that you can choose is the typical autumn style. Unlike the Halloween style of decorations, they are not spooky, creepy, and generally do not involve witches. These decorations often have that "harvest" theme and features burnt oranges, mustard yellows, rusty reds, and brown colors. While some of the Halloween decorations, like pumpkins and scarecrows, can be found in the autumn themed decorations, they are generally simpler and don't have spooky features.
Fall Decorations
Among both styles of fall decorations, there are many different fall themed items that you can often find in a collection of fall decor.
Pumpkins
Pumpkins are a very popular and common fall decoration. Whether you choose to decorate with real pumpkins, pumpkins made of yarn, or other unique pumpkin designs, this is an easy way to add touches of fall to your home decor. There are many beautiful and rustic pumpkin styles that can give you the autumn harvest look. Or you can carve pumpkins, find pumpkins with spooky designs, and decorate with a Halloween theme.
Scarecrows
Scarecrows are another popular fall decoration that is fun to add to your home's interior and exterior. Adding a cute stuffed scarecrow to your front porch swing or your fireplace mantel can give your space a unique style and a great fall feel. If you are going for the Halloween look, make your scarecrow spooky or just post him up in your yard for the traditional scarecrow look.
Cornucopia
Cornucopias are another great fall decorations that add a traditional look to your home's decor. There are many ways to decorate with cornucopias, but many people add gourds to them for a unique look. You can add small cornucopias to your dining room table, fireplace mantel, or as a centerpiece on your coffee table. Or you can add a large cornucopia to your front porch with a bunch of pumpkins and jack-o-lanterns spilling out.
Flowers
While flowers may not be the first thing you think of when you picture fall decorations, they are a great way to add beautiful fall colors to your home. Add some unique touches of fall to your space with a bouquet from Nancy's Floral. Our autumn flower collection features orange, yellow, red, and green flowers. Some of our flower arrangements include unique features like cornucopias, wagons, baskets, and other fall-inspired items.
Add fall style to your home with a bouquet from Nancy's Floral today!